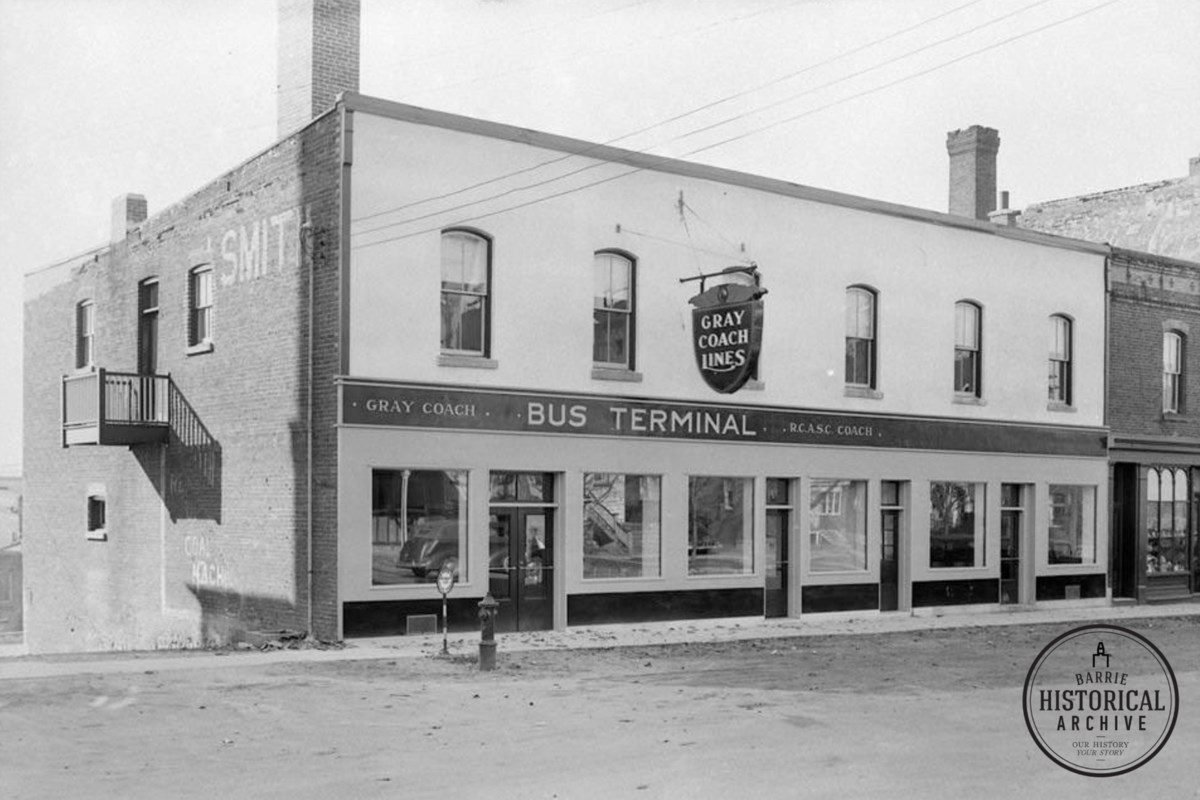 YESTERDAY AND TODAY: The other bus terminal in Barrie
[ad_1]
The terminal ran out of storefront on Collier Street from 1942 before moving to Maple Avenue in 1956
Thinking of the transportation plans for a downtown mini hub and the Allandale Transit mobility hub in Barrie, it's hard to imagine that the unassuming storefront at 73 Collier Street, which was next to the old fire station, was once a transportation hub itself.
But that's where the Barrie bus station was for a while.
The parcel of land on which this commercial building would be built was first leased by the Crown to James Shannon in 1845. By 1905, equipment, sundries and second-hand items were being sold from this block.
In 1929, Gray Coach offered service from Barrie to Toronto four times a day at $ 1.95 one way or $ 3.50 round trip.
The bus line started from the Clarkson Hotel before moving to Collier Street in 1942.
In 1948, Gray Coach Lines was promoting trips from the Barrie bus station: a return trip to Halifax would cost $ 57.80 and a trip west to Calgary would cost $ 79.50.
Closer to home, in 1949, every Wednesday and Sunday, for $ 4.65 round trip ($ 2.45 for kids), you could enjoy a 100 mile cruise on the lakes of Muskoka. Your ticket included a bus ride to the pier and a steamboat ride.
Yes, the comings and goings of bus travel happened there on Collier Street with huge coaches towering over the downtown street.
As might be expected, traffic and congestion on Collier Street became a problem, prompting Gray Coach Lines to purchase an old organ factory at the bottom of Maple Avenue as the site for its new bus terminal.
The new location was opened in 1956 by Mayor Eldon Greer, who was also in the bus business – operating their municipal bus service from their location on Penetang Street.
When Gray Coach left Collier Street, the Royal Canadian Legion Branch # 147 moved in. Prior to that, the Legion was located above Robertson's Pharmacy on Dunlop and Owen Streets.
Other businesses would follow in that block: Paradise Health Spa and who might forget Jerry's Radio and TV, which had moved from its previous location further down Collier Street. Fast forward to today's occupants of this historic building – Groovy Tuesday's and Tooth Corner.
The "new" bus terminal, located at 15 Maple Avenue, was finally demolished and condos were built on the site.
The current bus station was built across the street.
[ad_2]