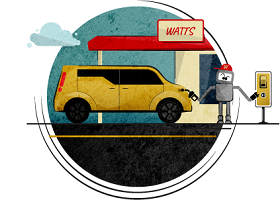 "The long road to electric cars"
Editor's note: After years of being portrayed as self-driving pariahs of anti-electric vehicles, it's finally time for other mainstream media to agree with our long-held position that electric vehicles ARE a diversion, not the solution. Electric has been touted as the only viable choice to replace gasoline-powered vehicles. It's not! The ubiquitous replacement should be existing, cheap, clean through and through, renewable, realistic, made in America, transportable liquid fuel for our "now and later" future… "spoiler alert" it's not petroleum-based.

Replacing gasoline shouldn't take a seismic paradigm shift to make it ubiquitous…it should be easily transported and stored at each of America's 160,000 gas stations and convenience stores and replace petroleum-based products virtually from overnight so that every American motorist can "fill up" the cars and trucks already purchased and paid for by their families without having to spend unfathomable sums and the government encouraged a large portion of their budget for new cars.
With our "champion" Ethanol, no need to be rocket science (over the past 120 years, ethanol has been tested and found to be satisfactory in use), no need to spend billions of taxpayers to install charging stations fragile and maintenance schemes and non recycling landfills of used batteries and inventions.
I'm happy to report that this week, other publications have finally pushed their balls to report and editorialize the hurtful anti-American fairy tale that is the electric car tsunami.
Here at The Auto Channel, we're glad others have seen fit to wake up and honestly report the Emperor's new clothes.
We believe that if an American wants to own and drive an electric, fuel cell, or CNG, or ethanol-powered car, that is their prerogative in a free capitalist society. But as it happens, our government bureaucrats shouldn't slam the door in the face of those 250 million vehicle owners who are "not on the market."
As Toyota President Akio Toyoda recently said, "The enemy is carbon, not internal combustion engines", so all you have to do is change the fuel that is put in the fuel tank… No more emission problems.
SEE ALSO: Reuters report: The long road to electric cars
SEE ALSO: EV News, Opinion, Video, Truths
Less than 1% of the 250 million cars, SUVs and light trucks on the road in the United States are electric
by Feilding Cage
Illustrated by Samuel Granados

Larry Nutson The Auto Channel editor reported that Reuters reporter Joe White said that one day the United States could be an electric car nation, but it will be a long road and some of the scenarios described by the White House and the industry seem optimistic.
MIT researcher David Ross and his colleagues modeled different combinations of government support for electric vehicles and charging infrastructure. Among their messages is that without significant investment to expand the EV charging network, EV sales could plummet.
The tide may be turning, take a look here at the Reuters story: The Long Road To Electric Cars