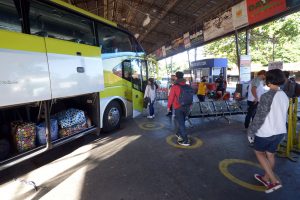 Terminal revenue expected to reach pre-pandemic level
THE Davao City Overland Transport Terminal (DCOTT) hoped that the resumption of regular terminal operations will result in revenues as high as those received before the COVID-19 pandemic.
Aisa Usop, manager of the facility, said last week that there were currently around 600 bus rides per day.
Usop said he was confident that the operations would result in revenues exceeding the 32 million pesos made last year.
"Hopefully for this year, the year 2022, kung dili man nato mareach ang P70 million, mutaas pa gyud siya no more than P32 million, the income we had last year," Usop said. Just before the pandemic, the establishment's income was 70 million pesos a year.
In 2020, or the year the pandemic was at its peak, the facility had a turnover of 23 million pesos.
During the first quarter of the month, Usop said the facility earned an average of 1 million pesos in monthly revenue increase compared to the same period a year earlier.
In January, he earned about 3.5 million pesos compared to 2.4 million pesos earned in January 2021. Usop said this has been the trend since the start of the year.
The number, however, was still low compared to that gained before the pandemic. "Naay pag is increasing in regards to numbers over a million pesos every month but of course kung i-compare pud nato sa atong pre-pandemic pa, mas taas pa gyud, wala pa gyud na na-reach ", she added.