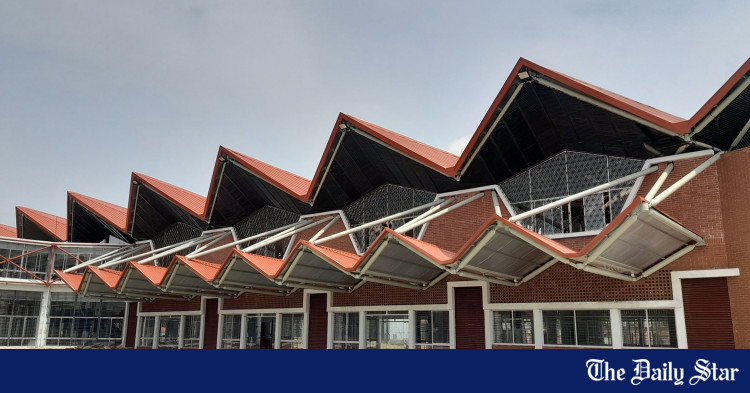 Sylhet is ready to inaugurate a modern bus terminal
In addition, the terminal, built on approximately 8.5 acres of land, has all the modern facilities of an international airport except that it is for buses. The people behind the project said it would give commuters an experience they had never seen before. Photo: Sheikh Nasir
">
In addition, the terminal, built on approximately 8.5 acres of land, has all the modern facilities of an international airport except that it is for buses. The people behind the project said it would give commuters an experience they had never seen before. Photo: Sheikh Nasir
After the Assam earthquake of 1897, the greater Sylhet region embraced sustainable building design. Known as "Assam-type" structures, they are now considered heritage.
This heritage can be appreciated by looking at the red steel roofs of the newly built terminal at Kadamtali of the city of Sylhet, as they are a spitting image of traditional architecture.
In addition, the terminal, built on approximately 8.5 acres of land, has all the modern facilities of an international airport except that it is for buses. The people behind the project said it would give commuters an experience they had never seen before.
Spending about Tk 67 crore, Sylhet City Corporation (SCC) under the Municipal Governance Service Project (MGSP) constructed the terminal.
Architects Subrata Das, Robin Dey and Mohammad Jashim Uddin jointly designed the terminal. Dhaly Construction carried out the construction work under contract.
Architect Subrata Das, assistant professor of architecture at Shahjalal University of Science and Technology, said: "Visually, we wanted people to think that this terminal represents Sylhet's heritage. And functionally, we focused on prioritizing transportation facilities.
"Bus stations are normally designed with departure and arrival at the front [of the establishment] and rear facilities," he said.
But the designers did the opposite, making facilities readily available, he added.
The departure building includes 970 passenger seats, 30 VIP seats, 30 ticket counters, a nursing area, lockers, a smoking area, a prayer room, a medical bay with sick beds, restaurants and convenience stores.
The arrival building also has 200 passenger seats, a food court and convenience stores along with other facilities.
A separate multi-purpose wellness center has been built, where bus owners, drivers and conductors will have offices and a 24-bed lodge.
Ali Akbar, CSC Superintendent Engineer, said, "Construction started in 2019 but work was delayed due to the pandemic."
Work should be completed by the middle of this month. "We expect to lease terminal facilities by September," he said.
Sylhet City Mayor Ariful Haque Chowdhury said, "I am very happy with the inauguration of this state-of-the-art bus terminal. After the final works are completed, people will be able to use the terminal without delay.