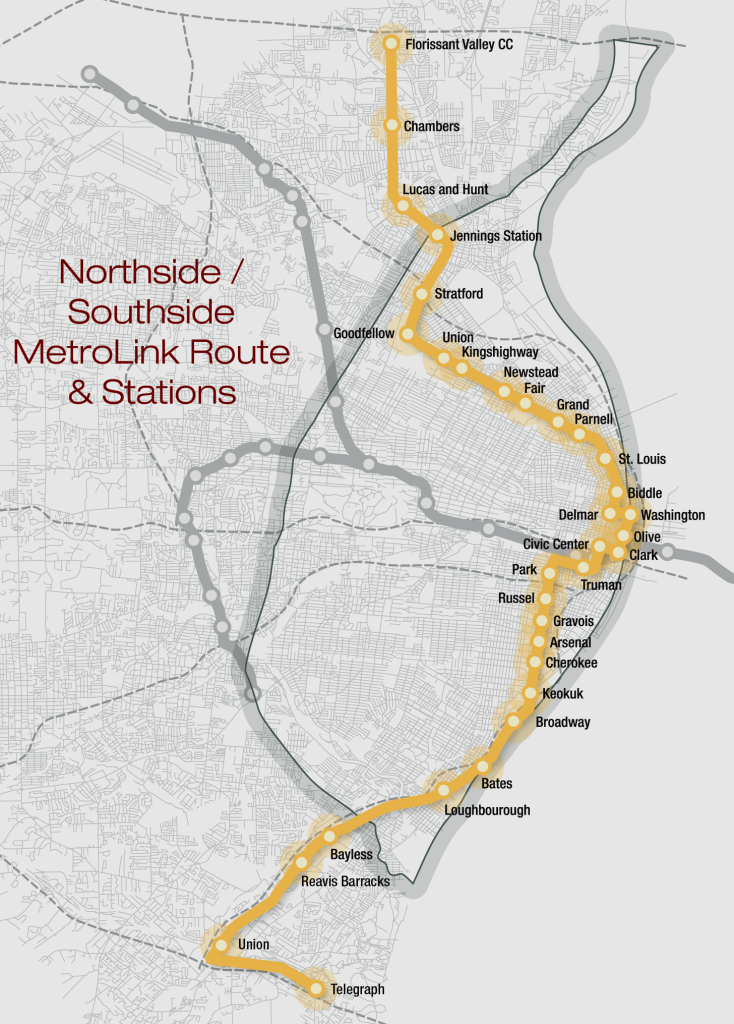 Saint-Louis will study north-south rapid transit…again
On Wednesday, Citizens for Modern Transit announced that St. Louis would again enter a study of north-south rapid transit. Alternatives to light rail transit (LRT) will be explored over the next 15 months.
This is the third study in 14 years of a potential north-south route. Locals often call St. Louis a city of plans, and no example would be more poignant than this. While other cities have built their rail networks over the past decade, St. Louis has fallen behind under fragmented and indecisive leadership.
In 2008, a study was published which identified a need for north-south rapid transit. In 2014, Scott Ogilvie (now program manager for the city of St. Louis) wrote that it was time to build it. In 2018, a new study determined that the LRT would operate at ground level. Another four years have passed and now in 2022, St. Louis is debating whether LRT or Bus Rapid Transit (BRT) is the best option.
The idea that after 14 years all this town has to show for education is more education is a miserable failure. For residents of some of the most populated parts of our city, having rapid transit on their doorstep has been the specter of a dream for much of their lives. They waited…and waited…and waited…in vain. With our transportation system stretched thin, it is time for the region to implement new innovative solutions and invest in ongoing operations to meet the needs of residents.
There is, however, a potential silver lining with this announcement of a new study. Switching to studying an alternative like BRT could mean that although more time will be invested in the study, the actual construction could be much faster than LRT. It took Indianapolis 15 months to build their Red Line BRT, which is 13 miles long.
So, from now until completion, the region could be looking at a ten-year timeline. Denis Beganovic, in a tweet, presented the timeline as such:
Although it would still be a decade, it would take another 75 months (or more) to build the LRT. Additionally, the cost savings from BRT versus LRT could allow St. Louis to build up to three times as many routes. This could allow routes along Jefferson, Grand and Kingshighway, for example.
Of course, this requires local communities to act decisively. Our elected officials will have to respond with conviction to the recommendations of the study and make this postponed dream a reality for the well-being of the people who live there.
If City of St. Louis Mayor Tishaura Jones and others are willing to do so, this additional study is a dramatic step in the right direction. Still, I can't blame anyone who is hesitant to believe that will translate into something material by the end of the decade.
A study is only as good as its implementation. Hopefully, this is the last North-South Rapid Transit study before construction begins.