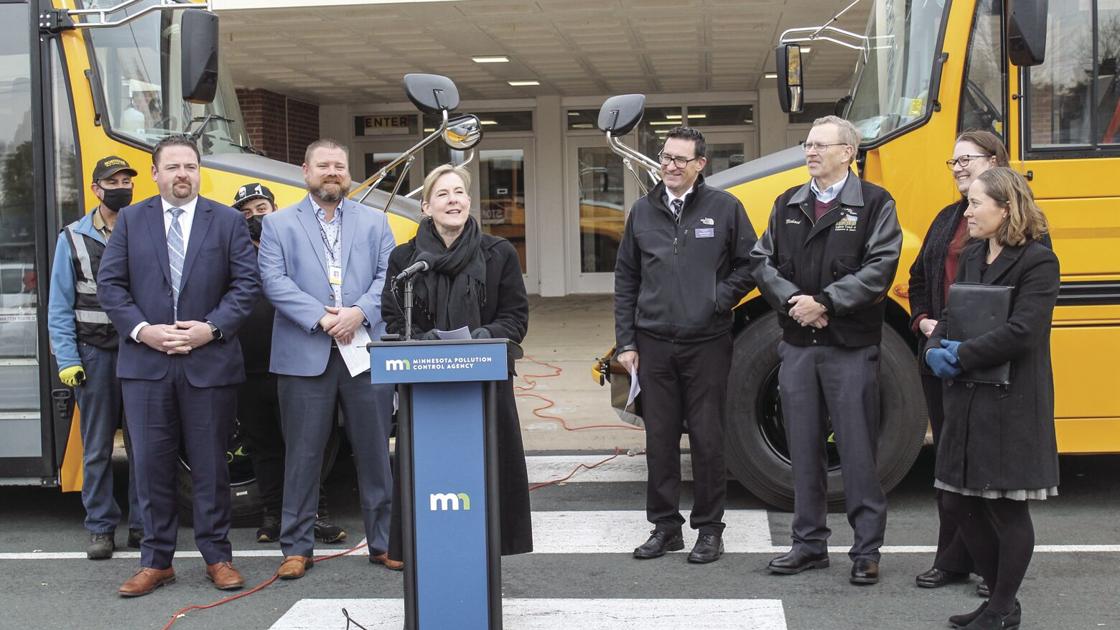 Osseo area schools get 3 electric buses through grant program | Local News
[ad_1]
The Osseo Area School District bus fleet has won three electric buses thanks to a grant from the Minnesota Pollution Control Agency, the agency announced outside Birch Grove Elementary School for the Arts in Brooklyn Park on November 10.
The district is one of five to participate in the state's $ 2.1 million electric school bus pilot project.
Switching from diesel buses to fully electric vehicles can reduce greenhouse gas emissions by 29 tonnes per bus. "It's exciting to be at the forefront of such a positive change in school transportation," said Cory McIntyre, Osseo Area School Superintendent.
The pilot program will collect data to measure the viability of electric buses in Minnesota's cold climate.
"We were pleasantly surprised at the great interest in these buses," said Katrina Kessler, commissioner of the Minnesota Pollution Control Agency. "We are working to get Minnesota back on track to reduce greenhouse gas emissions by 80% by 2050.
The grant was awarded to Northstar Bus Lines, the company that will serve school buses in the Osseo area.
Conventional diesel buses cost around $ 70,000 to $ 80,000. The new electric buses cost $ 388,000. The grant covered $ 300,000 for each of the new buses, and Northstar paid the balance.
"It can be easy to think that the problem of climate change is too big or that states can't tell the difference," said Minnesota House Speaker Melissa Hortman (DFL-Brooklyn Park). "But in reality, states are a critical place to be part of the solution. There are changes we can make at the state level that are exclusive to state policy and cannot be made at the federal level. This transition will take time, but today we are taking a step forward.
According to Chelaine Crego, terminal manager for Northstar Bus Lines, the buses are quiet enough to play music to warn pedestrians when they are moving at low speeds.
"I'm afraid the students will get on board and start asking for Bomb Pops," she joked.
The buses are equipped with regenerative braking, which recovers energy from the braking process and stores it for later use.
"We are a discontinuous business. We pick up on the corners, pick up the kids, so we brake a lot, "said Nick Martini, transportation coordinator for Osseo area schools. "Regeneration is a real possibility. We have to be strategic about the routes on which we put these buses. "
Although the bus engines are 100% electrically powered, they have a fuel-based backup heater.
Other beneficiaries include Faribault Public Schools, Columbia Heights Public Schools, Morris Area School District, Fergus Falls Public Schools, and the service that provides buses to St. Paul Schools.
Copyright © 2021 at Sun Newspapers / APG Media of East Central Minnesota. Digital distribution of this content without prior written consent is a violation of federal law and may be subject to legal action.
[ad_2]