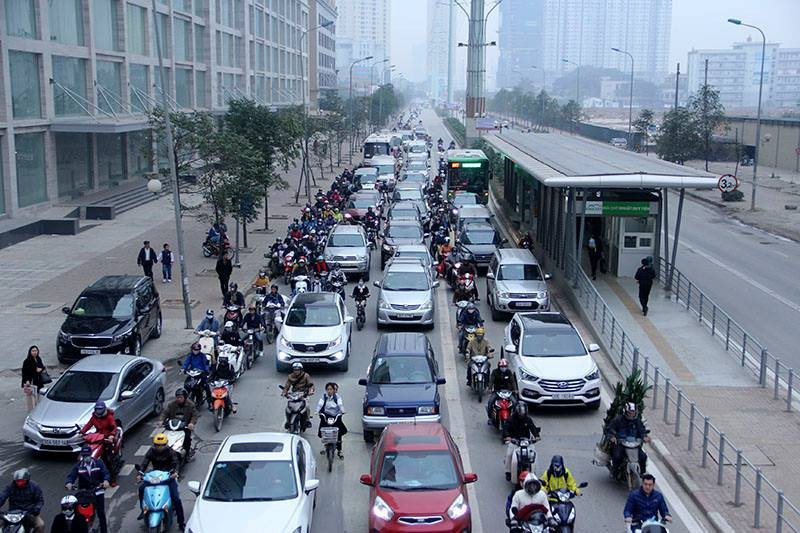 Lessons learned from Hanoi's flawed bus rapid transit project
The Thi Linh in Van Khe Urban Area in Hanoi's Ha Dong District sometimes takes the BRT to get from her home to Giang Vo Street.
However, it often takes longer to get there than a normal bus, because during rush hour the BRT lane is often congested with private vehicles encroaching on it.
"If private vehicles on the priority lane reserved for BRT, BRT, they cannot circulate, just like normal buses. That's why BRT still can't attract passengers," Linh said.
Hoang Van Minh, a resident of Ba La urban area in Ha Dong, said it was clear that the development of BRT had failed due to poor vision and unreasonable urban transportation planning.
He said this was due to the layout of the BRT on high traffic routes, many multi-storey buildings, narrow traffic areas and too many intersections.
"The BRT occupies one-third of the road width and crosses many intersections, so all the roads crossed by the BRT have become traffic congestion points," Minh said. "In some BRT stations, there is no pedestrian bridge and passengers have to cross the roads, which poses a threat to road safety."
Deficiencies
According to the Hanoi Public Transport Operation Center, after five years of use, the BRT has been accepted by people who praise its quality of service.
The number of BRT passengers has increased, but not greatly. There were 5.3 million BRT passengers in 2018, up 6.3% from 2017.
In 2019, BRT served 5.5 million passengers, up 3.7% from 2018. Meanwhile, the number of passengers reached 5.356 million in 2020, down 2.6%.
BRT has advantages that create differences between it and normal buses. As a specific lane is reserved for the BRT, it can circulate without problems at a speed of 20 kilometers per hour on average. The duration is stable and the punctuality rate is high.
When BRT line No. 01 was introduced, Hanoi hoped it would replace private vehicles and help ease traffic congestion.
However, problems arose during the trial operation of the BRT. Private vehicles encroach on the BRT lane, reducing the speed of BRT traffic.
Cameras placed on Quang Trung Street show that in one hour, about 308 vehicles circulate on the BRT tracks. The number is 707 on To Huu Street.
Hanoi has tried to solve the problems, including allowing normal buses to run on the BRT-only lane.
However, another problem arose. Bus shelters are located on the right side of the roads. If normal buses run on the BRT lane, passengers have to cross the road to catch the buses, which makes the traffic worse.
Planning failures
Nguyen Van Thanh, deputy director general of Vietnam's Roads Authority, said it's clear that the country's first BRT route has not been successful.
According to Thanh, Hanoi scheduled the BRT in a hurry and did not carefully review the plan. BRT routes are on narrow roads such as Le Van Luong and To Huu, but Hanoi still allows multi-storey buildings, which reduces space for BRT.
"There should be a system with many roads connected to each other. Hanoi plans to set up eight BRT routes. If routes can be arranged reasonably, passengers will take BRT instead of using private vehicles," Thanh said.
He said that before organizing the next BRT routes, Hanoi must create favorable conditions for the BRT to operate efficiently.
Priority lanes for BRT should be reserved and vehicles encroaching on the lane should be severely punished. Normal buses must also stop running on BRT lanes.
"In South Korea and Indonesia, the BRT works very efficiently, especially in Indonesia, where the transport conditions are similar to those in Vietnam. This is because they set BRT routes on proper roads and give top priority to BRT," Thanh said.
He thinks that it would be better to use a hard median strip to separate the lane reserved for normal vehicles and the lane reserved for BRT.
Seen Diep