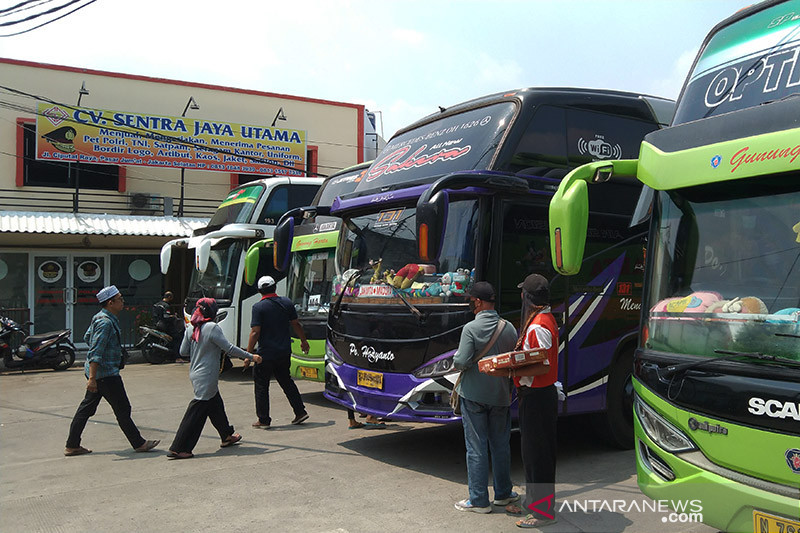 Lebak Bulus terminal not crowded facing the holidays: official
[ad_1]
It is still normal where the number is around 100 to 150 passengers, the same as the previous days
Jakarta (ANTARA) – The number of bus passengers at Lebak Bulus bus station in South Jakarta has not increased significantly and is completely normal ahead of the Prophet Muhammad's birthday holiday on Wednesday, October 20 . "It is still normal where the number is around 100 to 150 passengers, as in previous days," said the manager of the Lebak Bulus bus station in Hernanto on Tuesday.
Normal condition was inseparable from the government shift. The holiday that originally fell on October 19 has been changed to October 20, Hernanto said.
"It's like another normal day where the number of daily passengers is in the range of 100 to 150," he added.
Buses from the Lebak Bulus terminal leave for areas of Sumatra or Java, while it only accepts arrivals from Cirebon and Kuningan, he said.
Regardless of the crowd, Hernanto claimed his team applies strict health protocols to passengers by asking them for vaccination certificates through the PeduliLindungi app.
Related news: Jakarta police chief praises self-discipline of bus passengers
Before departure, officers will check vaccination certificates on the bus and remind passengers to maintain social distancing.
"The government's holiday shift is effective because there is a two-day shift. If it's just a (non-holiday) day, then people can take a day off," a- he explained.
The government had decided to move the commemoration of the Prophet Muhammad's birthday to October 20, 2021, from October 19, 2021, as a precautionary measure to prevent large-scale mass movements that will lead to a spike in COVID cases. 19, Ministry of Religious Affairs informed.
The vacancy position is stipulated in the joint decree of the Minister of Religious Affairs, the Minister of Manpower and the Minister of the Use of State Apparatuses and Bureaucratic Reform No.712, 1 and 3 of 2021 on the second amendment to joint decree n ° 642, 4 and 4 of 2020 public holidays and solidarity leave.
Related news: TransJakarta requires passengers to wear masks
[ad_2]