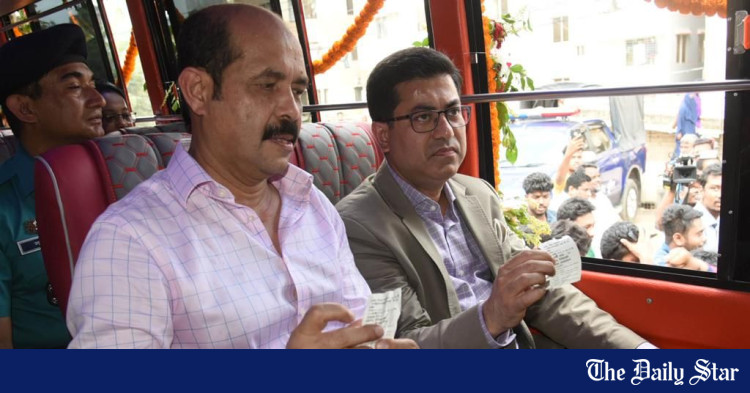 Launch of Nagar Paribahan buses on 2 new lines in Dhaka
Nagar Paribahan buses, as part of the Route Streamlining Project, were launched on two new routes in Dhaka today (October 13, 2022) – with the aim of streamlining the public transport sector and reducing traffic congestion in the city.
There will be 50 Nagar Paribahan buses traveling on each route – Route 22 Ghatarchar to Demra Staff Quarters and Route 26 Ghatarchar to Kadamtali.
The Minister of Road Transport and Bridges, Obaidul Quader, inaugurated the service on the new roads in Mohammadpur this afternoon.
While welcoming this initiative, Quader said: "Transport discipline, road discipline – these are the challenges for us. This challenge must be overcome.
Mentioning the importance of bringing order to public transport to deliver development benefits to the people, he said, "If there is no order on the roads, there is no order in the transport sector".
Bus services on Route 26 are operated by Bangladesh Road Transport Corporation (BRTC) while on Route 22 by a private organization, Dhaka South Mayor Sheikh Fazle Noor Taposh said.
New buses will be gradually launched on all new routes in Dhaka city under this service, he added. "We hope to launch this service on Route 23 in November."
In addition, no bus will be allowed to circulate without a circulation permit. The bus on one route cannot move on another, Dhaka North City Corporation Mayor Atiqul Islam warned at the event.
"We have to be strict considering the interests of passengers," the DSCC mayor also said.
"Those who come on this bus route franchise will benefit. Other buses cannot be allowed to run on these routes, therefore the cooperation of BRTA and DMP is needed."
The "Dhaka Nagar Paribahan" service was launched on a trial basis last December, as part of the rationalization project for the bus lines of the two Dhaka city corporations.