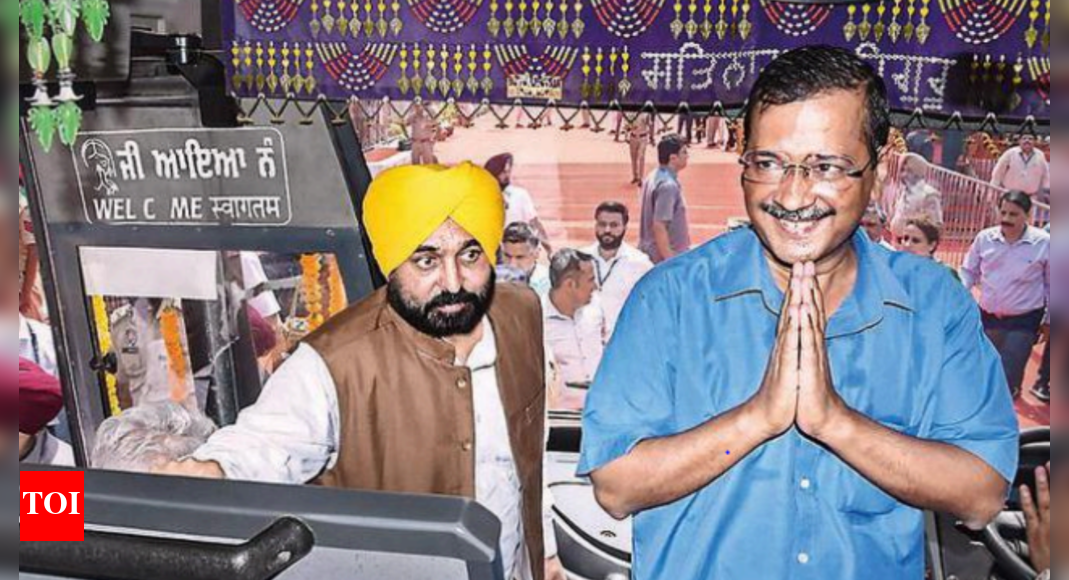 'ISBT' at Delhi Airport for Luxury Buses from Punjab | Delhi News
NEW DELHI: The Delhi government has created a special 'transit zone' for luxury buses traveling to Indira Gandhi International Airport (IGIA) from Punjab. The location, near the Centaur Hotel, was nominally "designated" as an Interstate Bus Terminal (ISBT).
On Wednesday, Delhi Chief Minister Arvind Kejriwal and his Punjab counterpart, Bhagwant Mann, announced the first batch of government-run luxury buses from Jalandhar, which will come directly to IGIA instead of Kashmere Gate ISBT. The Delhi government had to make arrangements, including the location of these
buses
, to enable them to reach the airport directly.
Ashish Kundra, principal secretary and commissioner for transport in the Delhi government, said a large number of people, coming from Punjab to board international flights, first get off at an ISBT before using another means of transport. to reach the IGIA.
Since
buses
from other states are not allowed to stop anywhere between the border and any of Delhi's three ISBTs to pick up or drop off passengers, some changes were necessary. "We have notified a route from the border of Singhu to IGI Airport for these buses," Kundra told TOI, adding that a memorandum of understanding had been signed with Delhi International Airport Ltd to establish the staging area.
"Thirty buses can be accommodated at the site, which has been 'nominally' designated as ISBT," he added. The Delhi government has also granted four-month permits for buses to operate from the airport.
Buses arriving from Punjab will enter the national capital at the Singhu border and pass through Mukarba Chowk, Madhuban Chowk, Janakpuri, Dhaula Kuan and the Aerocity underpass to reach the staging area. It is also expected that more facilities will be installed in the assembly area for passengers. Delhi Transport Minister Kailash Gahlot visited the airport last week to inspect the Delhi Transport Corporation counter.
While seven luxury buses were launched from Jalandhar on Wednesday, direct
bus services to
IGIA will also operate from Amritsar, Pathankot, Ludhiana, Hoshiarpur, Kapurthala, Patiala, Chandigarh, etc.
Work on Delhi's fourth ISBT at Dwarka Sector 22 is expected to start soon. In the works for more than a decade, it will approach the airport and mainly accommodate buses from Haryana and Punjab.