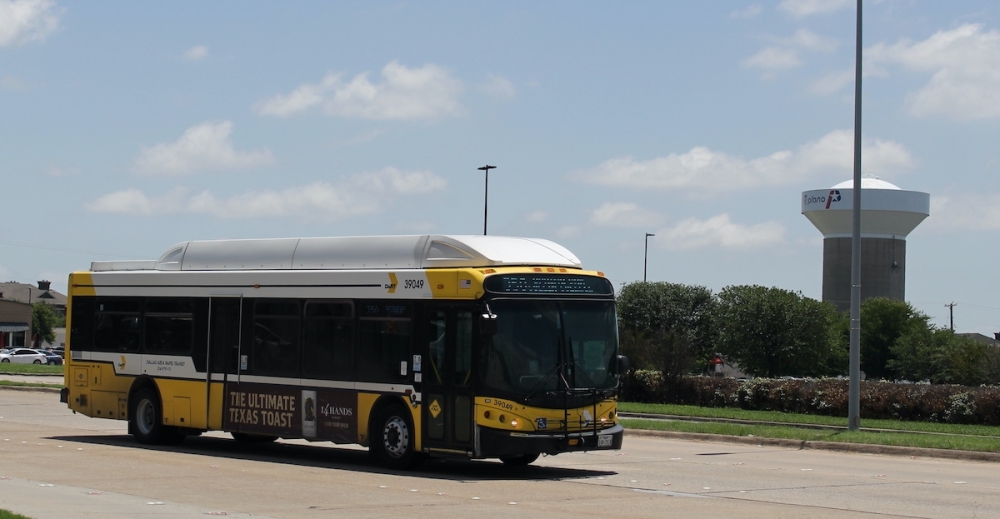 Dallas Area Rapid Transit set to launch redesigned bus network in Plano
Dallas Area Rapid Transit's redesigned bus system will go into effect Jan. 24. (William C. Wadsack/Community Impact Newspaper)
Dallas Area Rapid Transit will launch its newly redesigned bus network on January 24 in Plano and the other 12 cities in its service area.
To celebrate the launch, DART will make all rides free during the week of January 24-30. The transit agency also plans to offer 50% off all rides purchased with any DART contactless payment option from January 31 until the end of service on February 14.
The redesign of the bus network, known as DARTzoom, was designed to improve service frequency and bus availability times in the busiest areas. DARTzoom is the first major redesign of the bus network to address the significant growth Plano and surrounding areas have experienced since the service's inception in 1983. The transit agency has been working on the redesign since 2019.
A number of bus routes in Plano are being renamed and changed as part of the network overhaul.
However, DART officials said the biggest change Plano residents will see is the expansion of the transit agency's GoLink service, which went into effect Dec. 6. GoLink service provides on-demand, curb-to-curb shuttles to anywhere in each specified area.
The agency added two GoLink zones in Central Plano and East Plano to give the city a total of five.
"The GoLinks are really popular, especially on the north side [of the city]said Peter Braster, director of special projects for Plano.
Braster said the city's GoLink areas are among the busiest in the DART system.
The new central area of ​​Plano GoLink covers portions of three current bus routes. The other new zone covers portions of two existing bus routes in the eastern part of the city and extends to Richardson.
The former GoLink areas of the city cover North Central Plano, Far North Plano, and the Legacy West area.
According to a press release from the agency, the price of a GoLink ride is the same as a regular DART fare. The GoLink service also offers passengers the option of using UberPool for an additional fee ranging from $1 to $3 per person per ride.
The redesigned network will also expand coverage and provide more direct routes throughout DART's service area, according to the transit agency.
More information about DART's new bus network is available at www.dartzoom.org, including a DART Trip Planner tool that allows riders to compare their old routes with new options.