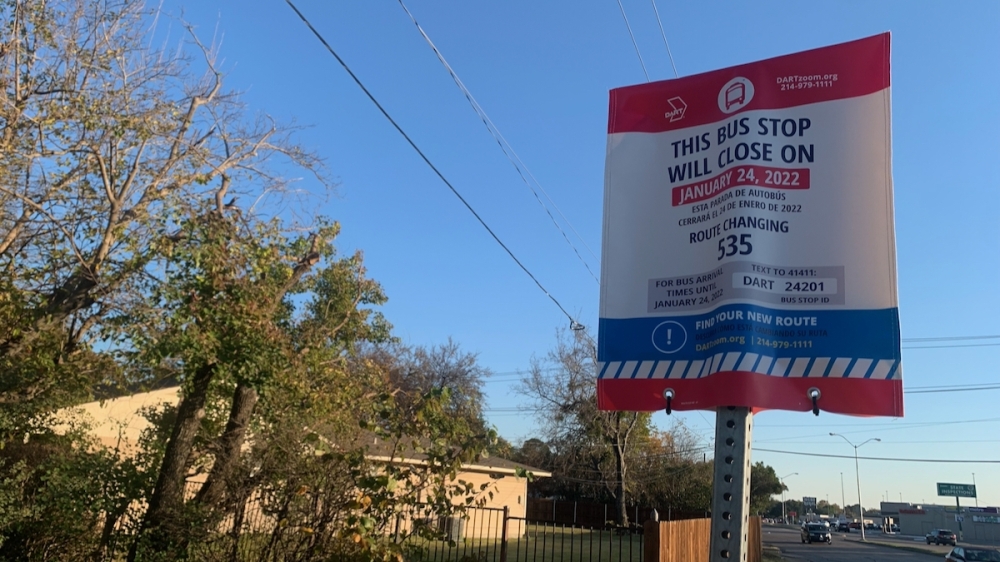 Dallas Area Rapid Transit is working on 10K sign update as part of bus network overhaul
[ad_1]
Dallas Area Rapid Transit is updating around 10,000 bus stop signs as part of its overhaul of its bus network that goes into effect Jan. 24. (Olivia Lueckemeyer / Community Impact Newspaper)
Dallas Area Rapid Transit is updating around 10,000 bus stop signs as part of its overhaul of its bus network that goes into effect Jan. 24.
The bags covering the signs at each stop contain information on upcoming changes as well as where to find more information on new routes, according to an Oct. 29 newsletter from the town of Richardson.
As part of the new bus system, all routes and route numbers will change to accommodate significant growth in the Dallas-Fort Worth area, according to DART. The goal of the plan, known as DARTzoom, is to provide more frequency and hours of bus traffic. The redesign also covers more areas and offers more direct routes, according to the transit agency.
Cyclists in Plano and Richardson will see revisions to a number of city routes and services, but DART officials expect the coverage area in those two cities to see little change overall. . As part of the new plan, residents of Plano and Richardson will see the expansion of DART's GoLink service, which offers on-demand shuttles.
DART will remove covers from bus stops as well as signs that are no longer needed after the new plan is implemented, according to a newsletter.
You will find more information on DARTzoom here.
William C. Wadsack contributed to this report.
[ad_2]