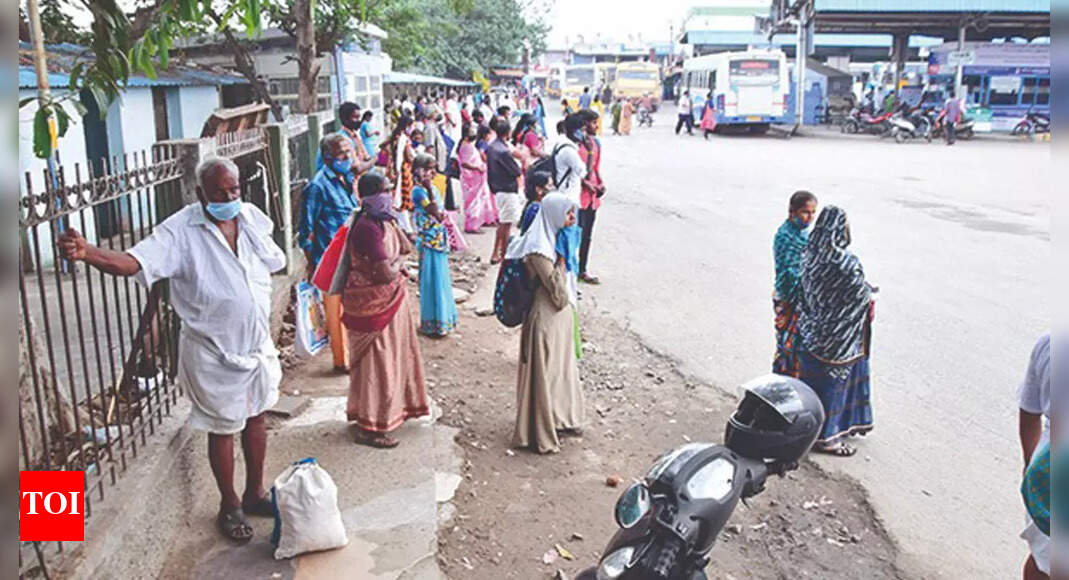 Coimbatore: Passengers brave rain and heat as Ukkadam bus station runs out of seats and shelters | Coimbatore News
[ad_1]
COIMBATORE: Ukkadam bus station lacks enough seats and shelters, forcing passengers to stand, sometimes for long hours, braving the heat and rain.
Buses to various parts of town and rural areas, Udumalpet, Dindigul, Kothagiri and Vilathikulam in Tuticorin district and various places in Theni district are operated from the terminal, which registers thousands of daily passes. However, the facilities are surprisingly insufficient.
City
buses
only allow passengers to board them at the terminal entry point, where there are no shelters. A trader said: "On sunny days, passengers could be seen waiting in the shade of nearby trees. However, when it rains, they don't have a place to escape in the same way. They must take refuge on platform number four or in the shops nearby.
P Kayalvizhi, a Sulur passenger, said only limited seating options were available on platform number four. "Most passengers have to stand for a long time. And the water stagnates in front of him every time it rains, adding to the misfortunes of the passengers.
V Shanmugam, another regular passenger, said the
terminal
was also not clean. "In the absence of bins, people throw litter on its premises. Although a few toilets are available, many use open spaces to relieve themselves, as the toilets are not clean. The free toilets at the exit point are poorly maintained.
Another passenger said people spitting on the walls and premises of the bus station were very common.
When contacted, a municipal company official said all issues would be resolved soon.
[ad_2]