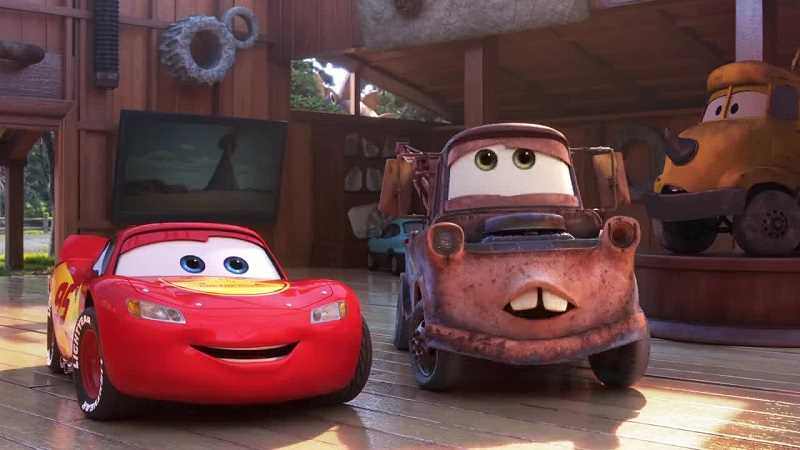 Check out our exclusive interview with the show's directors and producer!
cars on the road directors Steve Purcell, Brian Fee and Bobby Podesta talk to us about the new Disney+ series, while producer Marc Sondheimer also steps in to bring this franchise to the small screen.
To celebrate Disney+ Day, the original series from Disney and Pixar cars on the road will debut exclusively on the streaming service tomorrow, September 8.
The series follows Lightning McQueen (Owen Wilson) and his best friend Mater (Larry the Cable Guy) as they head east from Radiator Springs on a cross-country road trip to meet Mater's sister. The series offers plenty of fun adventures for the beloved duo, setting them in unexpected surroundings and paying homage to a few classic movies along the way.
We recently spoke to the show's producers Steve Purcell, Brian Fee and Bobby Podesta, as well as Cars franchise Marc Sondheimer, about their work on the spin-off.
During our conversation, they talk about drawing inspiration from films like madmax and the brilliant and the introduction of the Monster Truck Ivy. We also ask about possible future cameos from real-life F1 drivers (come on, it's time Lightning McQueen met "Super Max"), and what it was like to work with Owen and Larry again.
You can read the full interview with cars on the road creative team below:
This series lets you tell truly unique stories inspired by movies like madmax and the brilliant – How fun was it, creatively, to take this franchise down new paths?
Purcell: Oh, that was boring! No, no, it was wonderful. It was a lot of fun and one of the funniest things I've ever worked on. To be able to collaborate with these guys and our whole team… they're all thrilled to give us everything we wanted with what we were trying to achieve on the show. It was very rewarding.
Sondheimer: It's not just us who had a blast. It was also very gratifying to see some of the crew that particularly resonated with the motel episodes or the song and dance. They wanted to be part of that and bring their own creativity to every moment and every frame.
Ivy is a great new addition to the franchise, but what was it about that adorable monster truck that you think made her a worthy addition to the franchise? Cars world?
Costs: I'll start with that. You know, I think one of the most appealing things about Ivy from a storytelling perspective is how misunderstood she is. Even the public misunderstands who she is. Personally, I loved the idea that the monster in the woods is just one person. I like that twist and I like what Quinta Brunson brought to it. She just has this very, very relaxed but really funny entry into the character. It's never huge or overdone. There's just this wonderful little line she brings that made the character real. That's part of the joy I get from seeing where this character can go and how he can continue to surprise audiences.
Bobby, you also get to explore a really fun sibling rivalry on the show, so was that something you drew on from your own experiences?
Podesta: I thought that was awesome. I have seven younger siblings who are all glued together in different ways, like any modern family, but one thing that I have experienced – and I think many of our audience will have experienced – is that when you're a grown adult coming home, sometimes, for better or worse, you go back to your teenage years in the way you interact, you see, and what you do. I think for me what's always exciting about storytelling in the world of Cars is how to take an aspect of a relationship or something deeply human and tell it through the characters. To take that relationship and tell that through Mater and his sister was a wonderful opportunity.
Lightning and Mater make a great duo here, but when it came to choosing who should go on that road trip, Marc, was it always those two characters for you?
Sondheimer: [Laughs] Well, you know, the heart of this franchise is Mater and Lightning McQueen, so it was a natural fit. I can also hand over to Steve who was our screenwriter.
Purcell: We tried different ideas that we thought of for a series, but this one just landed. Maybe that was partly because we weren't in the office, working from home, and yearning to hit the road, but when it comes to character pairings, it's true that McQueen and Mater are central to the franchise. They really haven't spent a lot of continuous time together, so it was fun to let them be locked together for the nine episodes to see how their personalities play out in all these different places and all the constraints we put on them. It was very fun!
I'm a huge F1 fan and I know you've had drivers like Hamilton, Schumacher and Vettel who have done franchise voice over work before but are there any other drivers out there or somewhere else in the world of racing that you would like to create a character?
Podesta: I mean, I think the possibility of bringing in real-world characters is always something we try to keep in mind. It's great fun and we have a story about it. Our hope is that as we can continue to grow this Cars world and franchise, there will be more opportunities like this. So hopefully you'll be satisfied somewhere down the road.
Sondheimer: [Laughs] We love working with truth in materials and characters, so if we can bring the truth in characters and real people, there's a lot to be gained.
Steve, Brian and Bobby, what's it like having Owen and Larry in the recording booth and how fun is it these days when you're in the recording booth with them?
Costs: Well we laugh a lot [Laughs] especially with a comedic actor like Larry. The whole thing is just a hoot from start to finish. We're going in there with a certain desire where we've written the thing and done various cuts, and we want to come out with something that we know is going to work but still wants to leave a lot of room for the actor to play and improvise. We do this with everyone and it's always fun to see where it leads. We're going to go back and rewrite little bits and say, "We gotta put this fun little thing on and find a way for it to be in there!"
Purcell: And Larry, we sometimes put him to the test. We make him do more emotional things or tap into different parts of his personality. He's a real actor and he gets there and gives us a lot of trouble. With Owen, it's really fun because he's a writer and he scrutinizes the material as he works with it. He might have a different thought or question about how you approached him. On the other hand, if he gives you a compliment, it means so much because of his experience and quality as a writer.