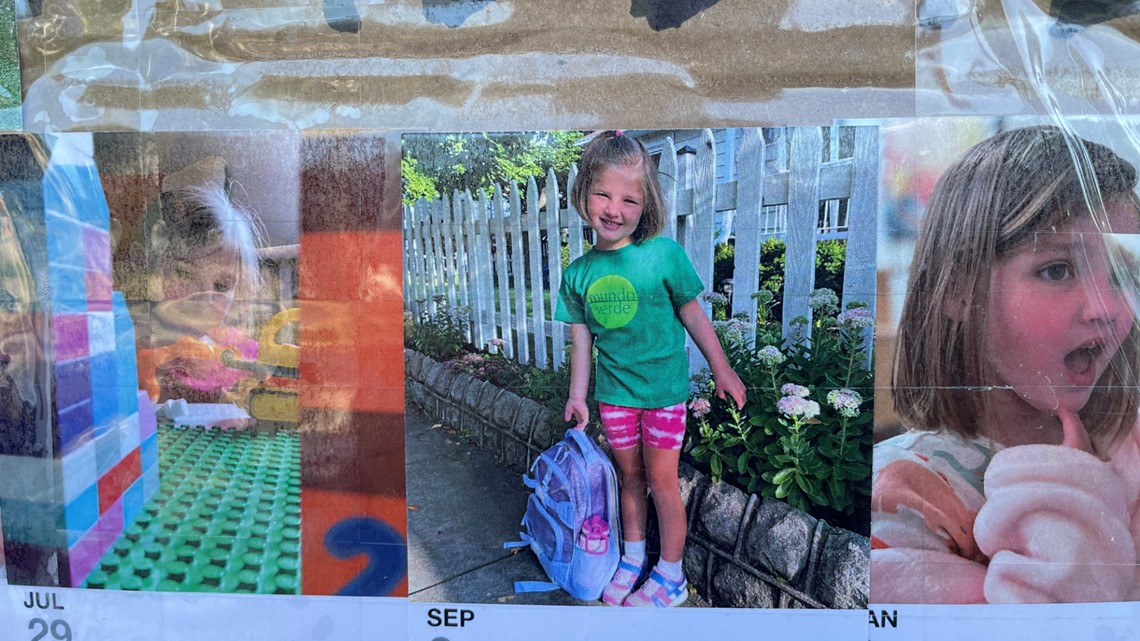 Cars drive through stop signs where 5-year-old Allie Hart was killed
Three Metrobuses blew through a stop where a kindergartener was killed a year ago in just half an hour.
WASHINGTON — A year after a five-year-old DC child was run over and killed while riding her bicycle on a neighborhood crosswalk, people are still puffing through the four-way stop at 14th and Irving where Allison Hart died.
The Twitter hashtag #All4Allie takes off, with Allie Hart's parents and many others demanding the city do more to keep our streets safe.
A sign posted on the corner of the street where she was killed gives insight into the extent of the loss. There are dozens of photos of Allie, who enjoyed riding her bike, singing musicals and playing in the mud.
She was killed by a DC neighborhood van driver. Police say he came to a complete stop, but Allie couldn't stop his bike and rode past him.
But on the anniversary of Allie's death, drivers were rolling through the stop sign one after another right in front of the ghost bike erected in memory of Allie.
"The overwhelming emotion I have is anger that we're not doing a better job, that safe streets aren't being taken more seriously," said David Van Horn, whose daughter is the same age as Allie. and went to school with her.
The day after Allie died, Van Horn posted a video of cars driving through the stop sign and thousands of people watched and commented on it.
A year later, he returned there and found cars still passing by, including garbage trucks and Metrobuses.
The general manager of Metro has promised to investigate. "I stayed there for half an hour. I saw three buses go by. All three went through the intersection without stopping," Van Horn said.
Some drivers overtook other drivers who were stopping.
The DC Department of Transportation sent us this statement:
"The District Transportation Department was deeply saddened by the tragic loss at 14th and Irving Street NE last year, and our hearts go out to Allie Hart's friends and family as they continue to mourn her.
"Immediately following the incident, DDOT installed short-term safety measures, including raised speed bumps, to reduce speeds near this location, school legends applied to the roadway, additional signage and parking restriction signs In addition, crossing distances have been shortened with sidewalk extensions.
"As part of a longer-term effort, DDOT is currently investigating corridor-level designs for 14th Street to further calm traffic, and will introduce them to the community in the coming months. DDOT is also investigating opportunities such as our automated enforcement cameras, which could further promote safety.
"We will also work with our sister agencies to strengthen the road safety behavior of DC government vehicles. District-wide, DDOT's vision for long-term change in our transportation system is outlined in our plan to long term, moveDC, that prioritizes safety as our #1 goal.
"Our goal in every project we do – whether it's paving small areas, designing streets or even large capital construction projects – is to focus on making everyone safer. road users. DDOT will relentlessly pursue our Vision Zero goal – to achieve zero deaths and serious injuries for travelers in our transportation system through more effective use of data, education, application and engineering."
Forty pedestrians were killed in DC last year, and another 24 so far this year. Advocates call it traffic violence, not an accident.
"It's hard to imagine what happens when a big van hits a 5-year-old kid. But it's violent. It's violent," Van Horn said.
Ashley Crawford holds her four children tight as she walks them home from school on Tuesday. She said the city's traffic-calming measures had failed to stop the counterfeits.
"They're very reckless. They barely stop. For crosswalks. For kids. Anything," she said of the city's drivers. "I'm scared," said her young daughter.
Neighbors submit traffic calming requests to 311 in memory of Allie.
The district commissioner tracks them down. There have already been dozens.