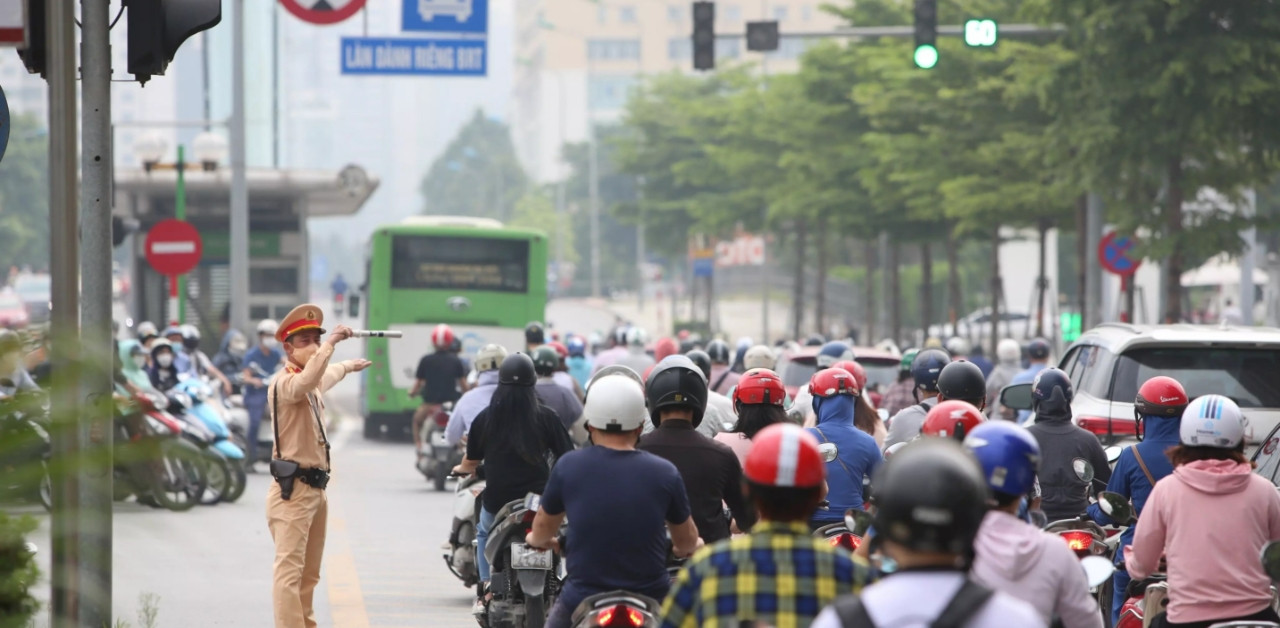 Bus rapid transit worsens traffic congestion in Hanoi
The BRT 01 route, from Kim Ma to Yen Nghia, has a total length of 14 kilometers and crosses the streets with the highest traffic density such as Giang Vo, Lang Ha, Le Van Luong, To Huu, Quang Trung and Le Trong Tan.
During the morning and afternoon rush hours, the streets usually experience traffic jams, which prevents the BRT from going as fast as expected, even if there is a specific BRT-only lane. In some cases, BRT even makes congestion worse.
Nguyen Minh of Ha Dong district, who commutes to work by motorbike every day, noted that traffic is congested partly because of the BRT. As private vehicles are only allowed to use two lanes while the remaining lane is reserved for BRT, a heavy traffic jam is understandable.
"It happens every day. The private car lanes are blocked, while the BRT lane is empty because there is only one bus every 5-10 minutes. No one dares to enter the BRT lane," she said.
"Reserving a lane for BRT wastes traffic infrastructure and it cannot produce the desired effects," she said.
Tran Quoc Viet from Dong Da District said he was previously fined for entering the BRT lane on Le Van Luong Street. He suggested that Hanoi authorities reconsider whether it is necessary to reserve a lane for buses.
"During rush hour, many motorbikes encroach on the lane reserved for the BHLS. Motorists have been fined for this, but motorbikes, in many cases, are not," Viet explained.
Le Tan from Ha Dong District noted that the police will issue fines for cars entering the BRT lane, but will not issue fines for motorbikes as there are many offenders. Police officers sometimes allow motorcycles to enter the BRT route to ease traffic congestion.
Traffic expert Nguyen Xuan Thuy said once a policy is not working effectively, it should be reconsidered. BRT is one such policy. BRT works well in other countries because the roads are wide and there are not many private vehicles like in Vietnam.
A source said the Hanoi People's Committee asked relevant agencies to assess the effectiveness of BRT's policy after hearing people complain about it.
Gia Van – Dinh Hieu