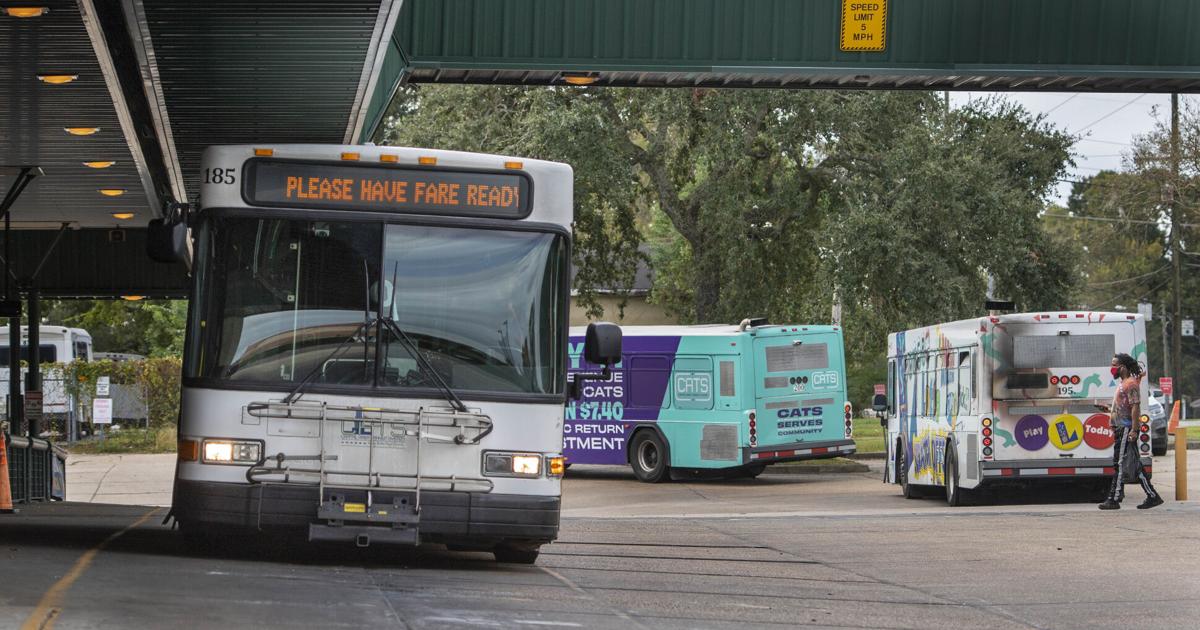 Broken buses, absent drivers: CATS cancellations multiply as the vote on property tax approaches | News
When Ralph McDermott landed a job as a cook at the Waffle House chain, he turned to the Capital Area Transit System to get to work. Like thousands in Baton Rouge, McDermott doesn't own a car, so he pored over the bus schedules to plan the quickest route.
Some days, however, the bus did not show up.
"I've been late a thousand times because of CATS," McDermott said at a bus stop on a weekday. "People are going to work and you canceled the bus. And then the next one that's supposed to happen is also canceled. "
To make up for CATS 'shortcomings, McDermott says he used Uber and Lyft often, spending up to $ 100 a week to get from a homeless shelter on Airline Highway to breakfast on Staring Lane. .
In September, McDermott quit his job fearing the restaurant would fire him anyway.
"CATS is the # 1 reason," McDermott said. "I am not leaving any job. It's too hard to find a job, but I've never been able to get to work on time.
Since the spring, CATS's service has steadily deteriorated, according to agency data. But despite the interruptions, even critics are calling for a "yes" vote to renew the system's main source of funding, a 10-year property tax, saying more people would suffer if the proposal was rejected.
Early voting begins Saturday for the bus tax and ends on November 6. Election day is November 13.
Sometimes late, sometimes never
In the last two months for which complete data is available, August and September, CATS has canceled more than 7% of its trips – the highest number of no-shows since March and April 2020, when COVID-19 hit the peak. Louisiana for the first time. And that's more than double the missed trips reported by the agency in a typical month, according to data from CATS.
In total, CATS has canceled more than 10,000 trips since March of this year.
Meanwhile, more and more buses are arriving late. About 35% of buses did not show up on time in August, marking the worst performance in more than 12 months, according to data from CATS.
CATS management attributes the delays and cancellations to two COVID-induced national trends: a labor shortage and a backlog in the supply chain.
Forty operators have left CATS since March 2020, and the agency has struggled to replace them, said COO Dwana Williams. The agency also faced a series of bus breakdowns, made worse by the inability to obtain spare parts to fill the agency's stock, Williams said.
But critics, including the union that represents the CATS drivers, blame the mismanagement, not the pandemic.
Yet boosters of the bus system, including Mayor-President Sharon Weston Broome and the Baton Rouge Area Chamber, argue that CATS is vital to Baton Rouge's economic growth. If the property tax is not approved, they say the bus system would have to drastically cut service and thousands of people would be stranded without transportation to get to doctor's appointments, grocery stores and school .
But irregular system schedules – and cancellations – have already taken their toll on some people's lives.
For many commuters, the bus service is not just point-to-point, but involves transfers. If a bus arrives late at a transfer point, additional delays may result due to the missed connection.
Max Dozier, 62, relies on CATS to come to the clinic for his treatment for bone infections. But the bus that passes by his Sherwood Forest Boulevard apartment, Route 57, only runs once every 45 minutes.
So when CATS cancels trips on this route – as it did 106 times in August, before the system shut down before Hurricane Ida – passengers like Dozier are stranded at the bus stop for nearly a day. time.
"Frustrated is not the word for it," Dozier said. "It's stressful and annoying. But it's the only thing I have.
Drivers under siege, broken buses
Of the more than 10,000 trips canceled by CATS since March, "no operator" is by far the most common explanation. Breakdowns or "no vehicle available" are the second most common excuse, according to CATS data.
Hurricane Ida caused 500 additional cancellations in late August and early September. But that's only one eighth of the 4,300 cancellations in those two months combined.
To replenish its workforce, CATS has stepped up its presence at local job fairs and on Monday a class of 13 potential drivers began training, Williams said.
Even though it pays interns a starting salary of $ 14 an hour, CATS has struggled to find enough full-time drivers.
The agency has held three "cadet classes" since March 2020. Of the 54 potential drivers who attended the training, "nearly 20" remained working for the agency, although Williams was unable to provide any. exact number.
Shavez Smith, a CATS union officer, countered that only four full-time drivers came from those classes. He said many interns stay long enough to get their commercial driver's licenses and then leave to find other jobs, although they have to pay CATS $ 500 for the training.
"People are taking a pay cut for driving school buses," Smith said.
The parts shortage, which Williams says began around May, has resulted in more noticeable disruption.
In the last week of July, more than a third of CATS '61 buses were deactivated due to a lack of parts in a heat wave and mechanical issues with several new electric buses. The incident forced CATS to take the unusual step of sending several white minivans to pick up passengers along low-traffic routes.
It was not the first time that CATS had to use vans to fill their buses. It did so in 2014 and again in 2015 at a time when the system's fleet was much older, Williams said.
Recently, the parts shortage has eased, she said, after CATS's maintenance department found an alternative supplier.
"We never stop running," said Williams. "We continue to operate, even with labor issues, even with fleet issues. "
"We are working on this part of the responsibility"
The 2012 election to fund CATS by taxing landowners in Baker and Baton Rouge took the system from the brink of bankruptcy to an annual budget of over $ 30 million. About $ 18 million of this annual sum comes from this tax.
Passenger fares typically represent around $ 2 million in annual revenue, and the agency regularly receives millions of dollars in federal grants to cover capital projects and bus maintenance.
In March 2020, CATS secured $ 17.6 million from the federal CARES Act, bringing its revenue for the year to nearly $ 40 million. The agency spent nearly all of the federal dollars in seven months, according to documents.
The bipartisan infrastructure bill pending in Congress would likely inject even more dollars into CATS if passed.
The next election calls on voters to approve a 10-year tax rate of 10.6 million. A "mill" represents $ 1 in tax for every $ 1,000 of assessed property value, which means that the owner of a home with an estimated value of $ 100,000 would pay $ 106 per year.
The CATS bus drivers union, which often disagrees with the agency's management, urges voters to renew the mileage, but says the leadership is slowing down the bus system.
"We support the mileage, but we do not support the mismanagement, wasteful spending, corrupt behavior and inability of the CATS board of directors to provide proper governance and oversight," said Anthony Garland, vice-president. International President of the American Transit Union, which represents CATS Drivers.
CATS fights federal union lawsuit that accuses bus system CEO Bill Deville of "flushing out unions" by punishing employees who denounced what they called "corrupt business practices" and terms hazardous work in the event of a pandemic. The lawsuit came after the transport agency spent $ 50,000 to investigate several union leaders for allegedly broadcasting a colleague's sex tape.
Metro City Councilor and CATS Board Chair Erika Green said the union's discontent did not reflect the mood of the entire workforce and that many employees enjoyed their jobs . Still, she said, cancellations are inconvenient and CATS needs more transparency.
"We want the city to understand that we are working on that part of the accountability," Green said.
Garland said the CATS board, which is appointed by the Metro Council, could start by adopting a "whistleblower" policy. He said workers who speak out are made redundant, while others simply take their talents elsewhere.
CATS Board Treasurer Parry "Matt" Thomas, in a recent interview with WBRZ-TV, acknowledged that the agency has a problem with revenue and does not have "the expertise that you would like to have "in senior and middle management. .
Last week, the agency's former policy coordinator, Elijah Pipersberg, emailed a cache of secret recordings he took from his boss, Executive Director Pearlina Thomas, to members of the Metro Council and de Broome, alleging "illegal and unethical" business practices at CATS.
The agency noted that annual independent audits required under state law never uncovered any evidence of the alleged fraud. Still, Metro City Councilor Dwight Hudson asked the East Baton Rouge District Attorney and Louisiana Legislative Auditor to review the claims.
For the thousands of passengers who rely on CATS every day, the most important thing is having a bus that arrives on time.
"Baton Rouge isn't that big for you not to be able to get the right bus system," McDermott said. "A lot of people don't take the bus because of the sadness of it."