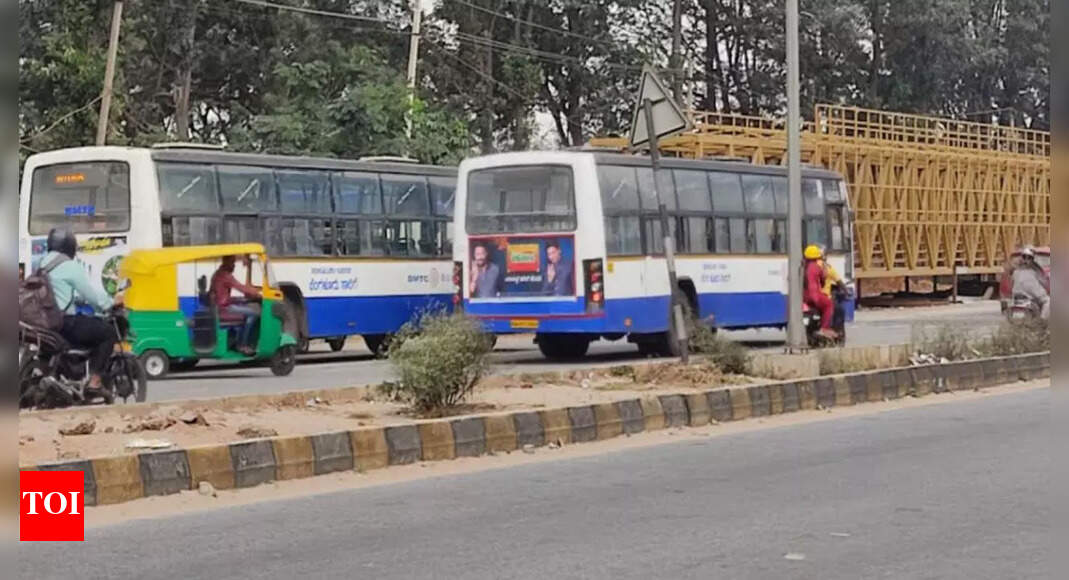 bmrcl: Bmrcl refused to cede land for parking E-bus: Bmtc | Bangalore News
BENGALURU: Bangalore Metro Rail Corporation Limited has refused a request from Bangalore Metropolitan Transport Corporation for vacant land behind Kengeri Bus Terminal Metro Station.
BMTC officials said they requested the land primarily for electric buses and also to install a small bus stand. "We are inducting 300 12m electric buses from Ashok Leyland. We want to set up opportunity charging stations (battery charging for short periods of the day) for these vehicles," a senior BMTC official said.
He said the current Kengeri Traffic Management Center is a small
bus terminal
. "The TTMC can only accommodate 20 to 30
buses
. Many buses on the Mysuru side from places like Bidadi are parked on the side of the road due to the lack of a bus stop. The traffic police have issued several notices for parking them on the side of the road as it causes severe traffic jams," the official added.
He said they proposed an underpass for buses there. "BBMP could build an underpass so that our buses can reach the BMRCL vacant lot behind Kengeri
bus station
metro station without hassle. It will also reduce the bottleneck on Mysuru Road, especially during peak hours," he said.
However, BMTC officials said they received a negative response from BMRCL. "There is a large plot of land behind the
terminal
subway station which has been vacant for the past few years. The space is ideal for a small bus stop as well as an opportunity charging station, but BMRCL said they wanted it for commercial development," an official said.
BMRCL Managing Director Anjum Parwez said, "In most places we acquired land just for metro purposes. I will look into this case.
BMTC officials said that BMRCL is taking over much of their land in Hebbal for the metro works. "We have a bus depot in Hebbal and this land is now required by BMRCL. Our operations will also be affected and our buses will be parked on the road," they said.
The Metro company recently decided to remove the proposed Intermodal
Transit Hub
(IMTH) at Challaghatta across NICE Road and along Mysuru Road. IMTHs are common in foreign cities to help passengers transition from one mode of transport to another without hassle.
The earlier plan was to have an elevated depot at Challaghatta and a bus depot for KSRTC and BMTC buses below. Bangalore is yet to have a unified transport body that will integrate several government agencies and come up with initiatives such as multi-modal transport hubs.