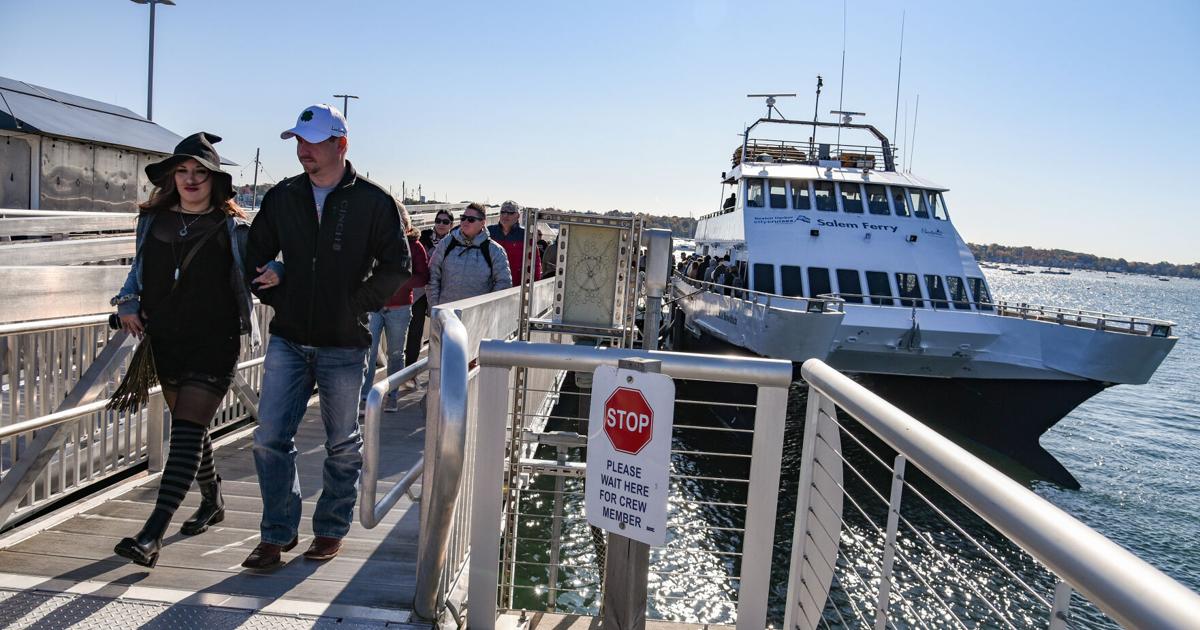 Better if by sea: As the streets of Salem fill with cars, passengers take the ferry | New
SALEM — The sun was barely rising when Caleb and Linda Jones, Arizona residents vacationing in Witch Town, boarded the Salem Ferry around 6:50 a.m. to explore Boston for a day.
The inverted tourists were riding with around 50 other people, many of whom were commuters taking advantage of a slightly longer, but nicer way to get to work.
"It's beautiful, affordable, doesn't take very long to get there – about an hour or so," said Caleb Jones. "I don't know why you wouldn't take that option instead of an Uber."
A ferry ride an hour later, however, saw crowds of tourists quickly fill the Nathaniel Bowditch – the ship Boston Harbor Cruises runs the Salem Ferry service through. Licensed to carry 149 souls, the crew capped passenger numbers at 145 as visitors to the Witch Town filled the craft's interior, upper deck and even front and rear seats.
Bowditch the Tour Boat
The Bowditch's interior cabin has been decked out with standard witchcraft fare for those embarking on Thursday. On the trip from Boston to Salem, staff handed out maps and Salem tourist guides to help visitors to the city get around, while Chief Captain Steve Clary picked up a microphone and provided narration during entry and exit ports.
"I was told the difference between an island and a rock is that an island has things growing on it," Clary said as the ship pulled into Salem harbor. "So this, to our left, is a rock. and it's in Marblehead. So it's called… Marblehead Rock. and to our right is Children's Island.
The captain-turned-tour-guide is an added touch to the Bowditch for the 2022 Haunted Happenings season, which shows the health of a ferry service from Boston to Salem, said Bob Lawler, general manager of Boston Harbor Cruises.
"We continue to add service, especially personnel, into the 2022 season," Lawler said. "In 2021, we increased traffic by more than 30%. I'm talking specifically about Salem.
The numbers are still not where they were in 2019, the last normal year before the COVID-19 pandemic, according to Lawler. With around 70,000 passengers that year, the company expects to be around 63,000 to 64,000 rides delivered this year after the last two weekends before Halloween.
"From a Boston Harbor Cruises perspective, we're doing well with our tourism business bringing people to Salem," he said. "The only time we've reached capacity is in October, and it happens to coincide with the shutdown of other elements of our business. We're able to bring larger vessels into service.
The company did this last year, with a massive scale-up for the last two weekends of October, according to Lawler. When Bowditch continued to fill up, they swapped her out for another ship almost twice as big, and eventually added another capable of carrying 500 people.
"We're bit by bit there," Lawler said of approaching the 70,000 runners mark. "Last October, we had 13,000 runners. In October, we will probably do 15,000 runners.
"They are enchanted"
Many of those who use the Bowditch every day are commuters who prefer the water route to the rail or wheeled alternative. A commuter, Betsy Rossman, a three-times-a-week passenger, pointed to a man standing at the front of the craft as it left Salem Harbor for Boston. He stayed there for several minutes after the ferry reached its maximum speed.
"Some people just stand on the bow all the time. They're elated," Rossman said. "There's just something about being on the bow. I can't find the word for it…this It's not Zen. It's just… a wonderful thing.
Minutes later, the man – Brisbane, Australia resident Markus Collins – said his family was "just traveling around the country for three months".
"We ended up coming to Salem for two days to see Boston for two days, and the ferry seemed like a more scenic way," he said. "The ferry is really nice. We have one in Sydney.
Annette Popp and Jo Melanson, two Salem residents traveling for work, sat together at opposite ends of the same seat, positioned about 4 feet apart with an open book for the 55-minute ride.
"We just got to know each other on the ferry," Melanson said. "No one talks to each other on the train.
"You also sit much closer on the train," Popp added. "Before, there were so many people."
Then again, the Salem roads are too. While city officials are practically begging visitors not to travel to Salem this month, Rossman reminded that "driving right now, especially in October, is not a good thing."
"You always wonder if you're going to go home," she laughs. "The police say if they have a problem they will close the streets."
On the drive to Salem, East Boston resident Brandon Smith brought his family from Ohio on a trip to Witch Town — a trip they take every year outside of a hiatus. one year in 2020 due to the pandemic.
For Smith, taking the ferry was a matter of respect. After all, the paid Haunted Happenings ads appearing on every national news website this month implores visitors to "HAVE A PLAN — USE SATELLITE PARKING, TAKE THE TRAIN OR FERRY."
"You don't want to take someone's parking spot or clog the streets," Smith said. "We know that with the number of people traveling to Salem, taking the ferry would be the best option, without worrying about finding a place to park, enjoying the ocean…and respecting the city, the people who live there."
Contact Dustin Luca at 978-338-2523 or DLuca@salemnews.com. Follow him on facebook.com/dustinluca or on Twitter @DustinLucaSN.