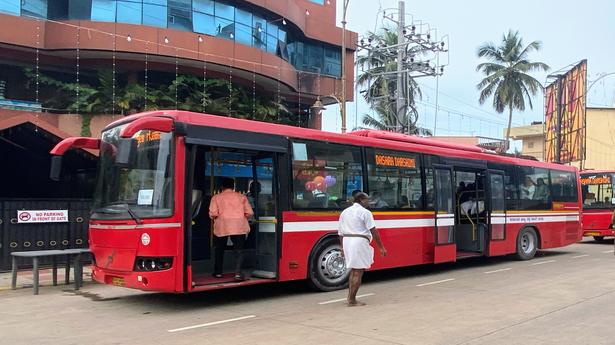 Air-conditioned coaches and other buses have been added for KSRTC's "Dasara darshana" package
Corporation also introduces Mangaluru-Udupi Package and Udupi Temple Tour Package

Corporation also introduces Mangaluru-Udupi Package and Udupi Temple Tour Package

With an aggressive response to its 'Dasara Darshana' temple tour package, Mangaluru Division of Karnataka State Road Transport Corporation has not only added four air-conditioned coaches to the service but also introduced a similar package for Udupi.
The company, responding to the huge demand, has also introduced two buses for the package tour from Thokkottu, south of Mangaluru, while other buses depart from its terminal in Bejai.
On the first day of the introduction of the package tour on September 26 itself, the three buses (midi-cars) operated at full capacity and the company increased their number to eight.
From Friday, it also introduced three Volvo coaches to meet demand with a fare of ₹400, compared to ₹300 on regular services.
All of these services depart from Bejai, with the first temple on the circuit being the Mangaladevi. From Thokkottu, KSRTC started operating two Karnataka Sarige coaches by popular demand from Saturday. Mangaladevi is also the first visiting temple for these buses.
Some of the Mangaluru taluk temples that passengers are taken to include Mangaladevi, Bolara Halekote Mariyamma, Polali Rajarajeshwari, Sunkadakatte Ambika Annapoorneshwari, Kateel Durgaparameshwari, Bappanadu Durgaparameshwari, Sasihiltlu Bhagawati and the nearby beach, Chitrapura Durgaparameshwari, Urwa Marigudi and Kudrli Gokarnanatha.
Realizing there was a similar demand in Udupi, the company deployed four midday coaches for the temple tour in and around the city starting Thursday with two buses, and increased the number to five on Saturday.
The Udupi temple tour package includes Kadiyali Mahishamardhini, Ambalapady Mahakali, Kannarpady Jayadurga Parameshwari, Puttur Bhagawati Durgaparameshwari, Mandarti Durgaparameshwari, Neelavara Mahishamardhini, Kunjaragiri Durgadevi, Kaup Marigudi and Uchchila Mahalakshmi. The tour starts at 7 a.m. and ends at 8 p.m. The pass costs ₹300 for adults.
The company will also launch a Dasara package for temples in the Udupi district of Mangaluru from October 1 to October 4. return to Mangaluru at 6:30 p.m., specifies an official press release. The package costs ₹450 for an adult traveler in the regular coach.
Tickets for package tours can be booked online www.ksrtc.in or at its pre-booking counters.